Klenteng Eng An Kiong
Tempat ini beralamat di Jalan RE Martadinata No. 1, Malang, atau tepatnya berdampingan dengan Pasar Besar Malang, di kawasan Kota Lama. Dibangun pada tahun 1825 silam atas prakarsa Liutenant Kwee Sam Hway, klenteng ini sekarang tidak hanya dijadikan sebagai tempat ibadah, melainkan juga spot wisata religi.
Menurut salah seorang yang bekerja di lingkungan klenteng ini, En An Kiong mempunyai makna "istana keselamatan dalam keabadian Tuhan". Klenteng ini sendiri merupakan klenteng Tri Dharma, yaitu diperuntukkan bagi penganut agama Buddha, Tao, dan Kong Hu Cu. Selain itu, klenteng yang telah berusia ratusan tahun tersebut juga menjadi salah satu pusat kebudayaan Tionghoa di Malang, dengan berbagai perayaan dan pertunjukan seni yang digelar, termasuk barongsai dan wayang potehi.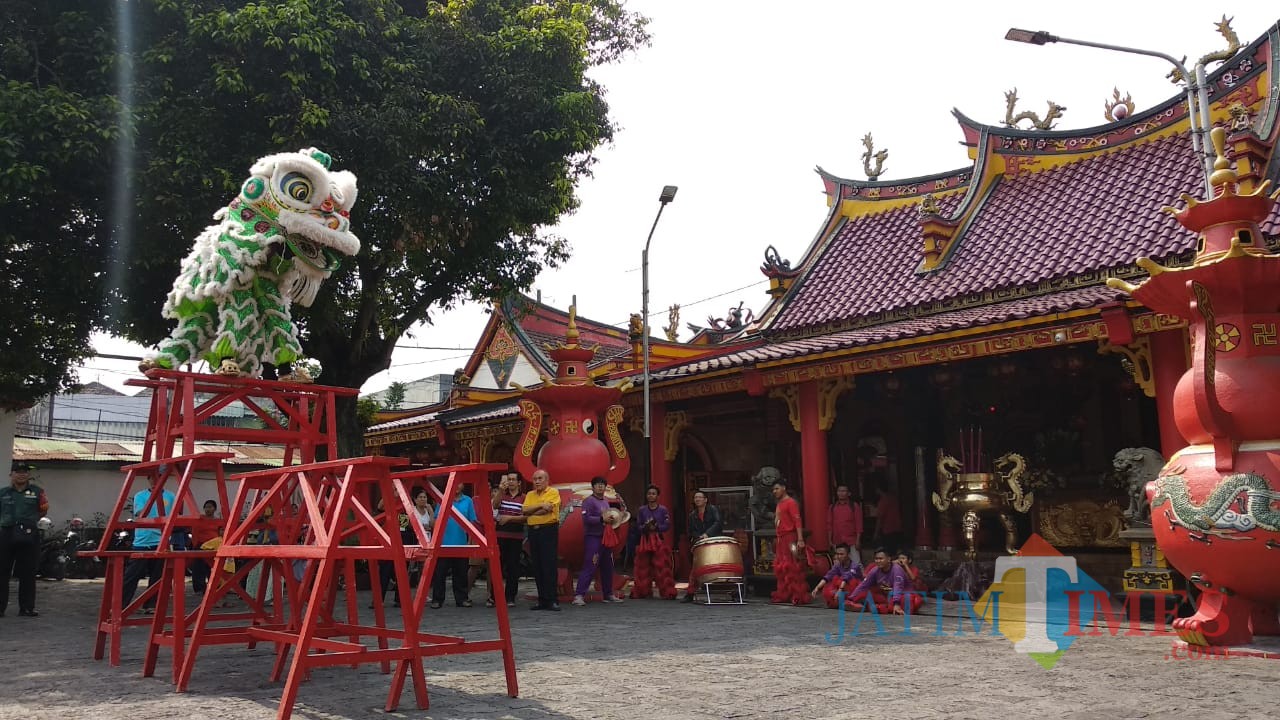 معبد Eng An Kiong
يقع هذا المكان في Jalan RE Martadinata رقم 1 ، مالانج ، أو على وجه التحديد بجوار سوق مالانج بيسار ، في منطقة كوتا لاما. تم بناء هذا المعبد في عام 1825 بمبادرة من Liutenant Kwee Sam Hway ، ولا يُستخدم الآن هذا المعبد كمكان للعبادة فحسب ، بل كمنطقة سياحية دينية أيضًا.
وفقًا لشخص يعمل في منطقة الهيكل هذه ، فإن En An Kiong لها معنى "قصر الخلاص في أبدية الله". هذا المعبد نفسه عبارة عن معبد Tri Dharma مخصص لأتباع البوذية والطاوية والكونفوشيوسية. بالإضافة إلى ذلك ، أصبح هذا المعبد الذي يبلغ عمره مائة عام أيضًا أحد مراكز الثقافة الصينية في مالانج ، حيث تُقام العديد من الاحتفالات والعروض الفنية ، بما في ذلك رقصة الأسد وعرائس بوتيه.
Eng An Kiong Temple
This place is located at Jalan RE Martadinata No. 1, Malang, or to be precise adjacent to Malang Besar Market, in the Kota Lama area. Built in 1825 on the initiative of Liutenant Kwee Sam Hway, this temple is now not only used as a place of worship, but also a religious tourism spot.
According to one person who works in this temple area, En An Kiong has the meaning "palace of salvation in God's eternity". This temple itself is a Tri Dharma temple, which is intended for adherents of Buddhism, Taoism, and Confucianism. In addition, this hundred-year-old temple has also become one of the centers of Chinese culture in Malang, with various celebrations and art performances being held, including the lion dance and potehi puppets.